Health Issues
Huntavirus
What is Hantavirus Pulmonary Syndrome?
Hantavirus Pulmonary Syndrome (HPS) is an infectious respiratory disease endemic to North and South America. It is caused by a virus generally known as the hantavirus. While the disease is frequently fatal, is can be very easily prevented.
The hantavirus has a reputation for being a "rare" virus, which is a clear misunderstanding. In the United States, the virus is ubiquitous, being found in over half of the lower 48 states. In fact, cases of the disease have occured in at least thirty states.
The disease itself is considered rare, as the virus is not very infectious except under certain circumstances. As such, when someone contracts HPS, the incident is frequently considered to be a random "freak accident".
In this regard, it doesn't happen very often but it is worth avoiding, and it can be prevented very easily if you understand how it works.

What is the host of the hantavirus?
The natural host of the hantavirus appears to be rodents, which are thus considered vectors for both HPS and HFRS. In the United States, the hantavirus is typically carried by the deer mouse (Peromyscus maniculatus). It can also be found in other rodent hosts, such as the cotton rat (Sigmodon hispidus), the marsh rice rat (Oryzomys palustris) and the white-footed mouse (Peromyscus leucopus), so other carriers may exist.
- Extracted from Huntavirus.net
West Nile Virus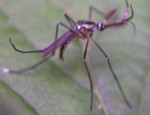 What is West Nile Virus?
West Nile virus (WNV) is a potentially serious illness. Experts believe WNV is established as a seasonal epidemic in North America that flares up in the summer and continues into the fall. This fact sheet contains important information that can help you recognize and prevent West Nile virus.
What Can I Do to Prevent WNV?
The easiest and best way to avoid WNV is to prevent mosquito bites.
When you are outdoors, use insect repellent.
Many mosquitoes are most active at dusk and dawn. Be sure to use insect repellent and wear long sleeves and pants at these times or consider staying indoors during these hours.
Make sure you have good screens on your windows and doors to keep mosquitoes out.  Get rid of mosquito breeding sites by emptying standing water from flower pots, buckets and barrels. Change the water in pet dishes and replace the water in bird baths weekly. Drill holes in tire swings so water drains out.  Keep children's wading pools empty and on their sides when they aren't being used.
- Extracted from the National Pest Management Association
Asthma and Cockroaches

World Asthma Day Raises Awareness of Pest-Related Health Issue
Monday, May 05, 2008
National Pest Management Association echoes Environmental Protection Agency's concern regarding pests as asthma triggers
May 5 (Fairfax, VA) — World Asthma Day, observed May 6th during Asthma Awareness Month, highlights a significant health issue facing many American families. Currently, the Centers for Disease Control (CDC) reports that 22 million Americans, including 6.5 million children, suffer from asthma. This respiratory disease not only results in over 2 million ER visits each year but, according to the National Heart, Lung and Blood Institute, accounts for $16 billion in healthcare expenditures and lost productivity.
Although there are various disease triggers, the Environmental Protection Agency (EPA) and the National Pest Management Association (NPMA) concur that the presence of pests, notably cockroaches and rodents, is a leading trigger, especially in children.
"With the EPA's estimation that Americans spend 90% of their time indoors, it is imperative for homeowners to recognize the health threats associated with pests in prompting asthma attacks," said Cindy Mannes, vice president of public affairs for NPMA. "We fully support the EPA in its effort to raise awareness of asthma triggers, particularly the presence of pests."
Cockroaches spread nearly 33 different kinds of bacteria and six kinds of parasitic worms. As cockroaches crawl through sewage, they can pick up and spread germs on the spines of their legs and bodies. Mice are capable of dropping up to 25,000 fecal pellets each year, an estimated 70 times each day, which can trigger allergies and spread disease, including Hantavirus.
NPMA experts offer these tips to help homeowners prevent pest infestations:
Vacuum often to eliminate pest allergens.
Dispose of garbage regularly.
Keep food in sealed containers to prevent contamination.
Properly ventilate basements and crawl spaces to eliminate harborage points.
Seal cracks, holes and space around utility pipes that lead into the home.
If you suspect an infestation, contact a licensed pest professional to inspect and treat the pest problem.
For more information on cockroaches and rodents or to find a pest professional in your area, visit: www.pestworld.org.
NPMA, a non-profit organization with over 5,000 members, was established in 1933 and in 2008 celebrates its 75th anniversary of supporting the pest management industry's commitment to the protection of public health and property.
- Extracted from the National Pest Management Association